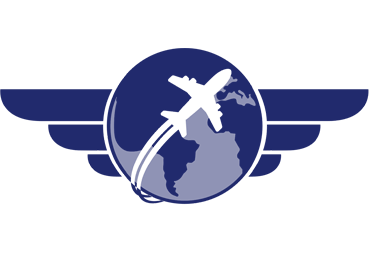 La Contrib' UNSA-PNC : 15 au 30 Juin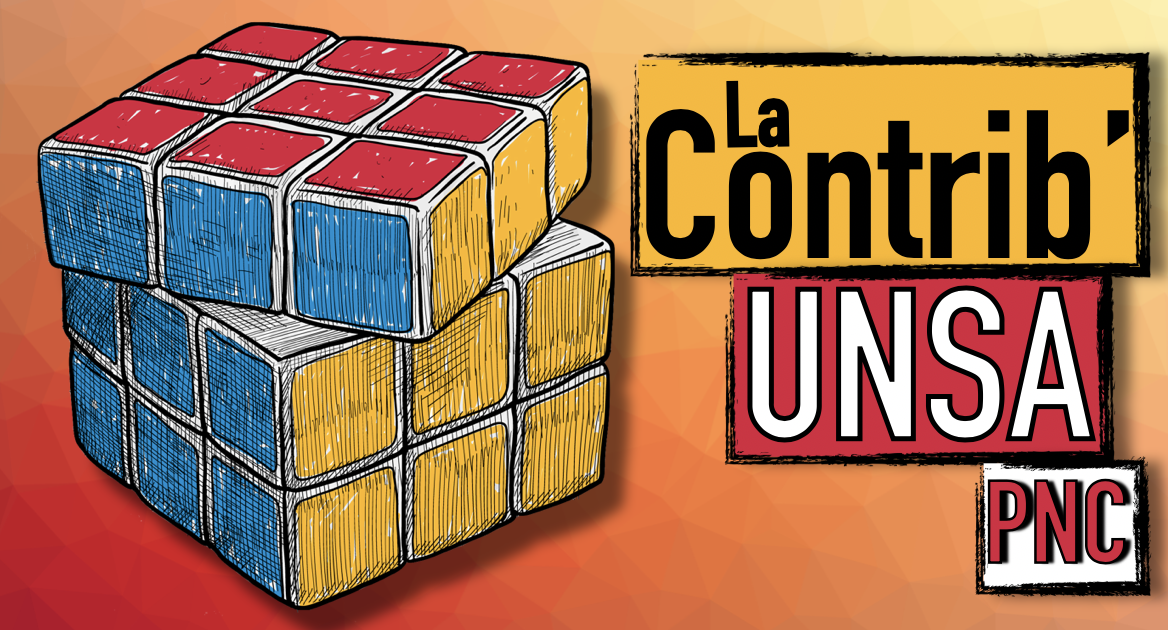 L'activité reprend peu à peu mais la nécessité de rester informé persiste. Le contexte de crise impose adaptation dans le temps et dans la forme.
L'UNSA PNC « contribuera » à vous apporter chaque mois les clés de cette lente reprise. Vos remontées et interrogations en sont là matière première. Merci à tous.
Dans ce contexte sanitaire toujours incertain nous avons décidé de maintenir notre numéro dédié : 09 80 80 02 02 (09h/17h) et continuerons à être joignable 7/7 de manière à pouvoir répondre au mieux à vos demandes et questionnements.
Mais également sur RAF 7 (notre permanence virtuelle disponible pour nos adhérents) ou encore par mail unsapncaf@gmail.com.
La Contrib UNSA PNC vous résume l'essentiel des dernières infos.
Au menu de cette quinzaine :
1- Limitations UM en GP
2- Hausse activité et programme juillet août
3- La vie en escale
4- Les brèves du terrain
5- Moschorus
6- CabinPad en souffrance
7- Rappels chronologiques
8- THE Pêle "MAIL"
---
UM mesures covid : WARNING
En raison de la crise sanitaire, des critères autorisant les UMNR sur les vols ont été mis en place :
Quota de 6 UM par vol, quel que soit le type de courrier CC/MC/LC,
Enfant âgé de 8 à 17 ans inclus, exclusivement (exclusion des UM de 4 à 7 ans inclus),
UM autorisés sur vols directs uniquement (interdiction de la correspondance à CDG et AMS).
Les UM voyageant en billets à réduction non commerciale suivent le même traitement que les UM « commerciaux » et, à ce titre, les consignes commerciales et exploitations actuelles s'appliquent.
Ainsi, lorsqu'un PNR, émis avant les nouvelles consignes, comporte plusieurs UM « à âges mixtes » (ex : 1 UM de plus de 8 ans + 1 UM de moins de 8 ans), les familles sont contactées par le ROC pour leur demander :
Si elles souhaitent maintenir le vol du ou des enfants âgés d'au moins 8 ans (le PNR est alors splitté et le dossier de l'UM de moins de 8 ans est annulé)
ou si elles souhaitent annuler l'ensemble du dossier.
Attention ! Il n'y a pas d'exception pour les fratries.
Concernant les dossiers émis sur GPNet depuis les nouvelles consignes UM :
Le système empêche toute réservation ne répondant à ces critères.
---
Activité en hausse sur juillet/août
Comme prévu, la reprise se fait lentement à compter de juillet, à hauteur d'environ 35% du programme initialement prévu puis 40% en août. On est loin du compte, certes, mais les DDA reprennent des couleurs et notre TDS aussi...
Ce programme de vols est susceptible d'évoluer et reste soumis à l'obtention des autorisations gouvernementales requises.
Programme de vols pour les mois de juillet et août 2020 de/vers CDG :
FRANCE METROPOLITAINE
Ajaccio, Bastia, Biarritz, Bordeaux, Brest, Calvi, Clermont-Ferrand, Figari, Lyon, Marseille, Montpellier, Nantes, Nice, Pau, Perpignan, Rennes, Toulon, Toulouse

OUTRE-MER, CARAÏBES ET OCÉAN INDIEN
Antananarivo, Cayenne, Fort-de-France, La Havane, Maurice, Papeete, Pointe-à-Pitre, Saint-Denis de La Réunion, Saint-Domingue, Saint-Martin

EUROPE
Alicante, Amsterdam, Athènes, Barcelone, Bari, Bergen, Berlin, Bilbao, Billund, Birmingham, Bologne, Bucarest, Budapest, Cagliari, Catane, Copenhague, Cork, Cracovie, Dublin, Dubrovnik, Düsseldorf, Édimbourg, Erevan, Faro, Florence, Francfort, Genève, Göteborg, Hambourg, Hanovre, Héraklion, Ibiza, Lisbonne, Ljubljana, Londres, Madrid, Manchester, Milan, Munich, Mykonos, Naples, Newcastle, Nuremberg, Olbia, Oslo, Palerme, Palma de Majorque, Porto, Prague, Rome, Santorin, Séville, Split, Stockholm, Stuttgart, Tbilissi, Thessalonique, Turin, Varsovie, Venise, Vienne, Wroclaw, Zagreb, Zurich

PROCHE ET MOYEN-ORIENT
Beyrouth, Dubaï, Le Caire

AFRIQUE
Conakry, Cotonou, Douala, Nouakchott, Tunis, Yaoundé
+ autres destinations prévues sous réserve d'obtention des autorisations gouvernementales requises.

AMÉRIQUE DU NORD
Atlanta, Boston, Chicago, Los Angeles, Mexico, Montréal, New York, San Francisco, Toronto
AMÉRIQUE DU SUD
Panama City, Rio de Janeiro, Santiago, Sao Paulo

ASIE
Bangalore, Bangkok, Bombay (Mumbai), Delhi, Hong Kong, Osaka, Séoul, Singapour, Tokyo
---
What's Up In The World ?
Beaucoup s'interrogent sur les conditions "EN LIVE" en escale, peut-on manger en room service à PTY ? Peut-on sortir à LAX ? Les coupures d'eau sont-elles toujours effectives à FDF ? Les restaurants ont-ils rouverts à ATL ? etc etc
A l'attention de tous ceux qui surfent sur le net, vous trouverez sur le réseau social préféré de Mark Z (ça commence par un F et se termine par un K pour ceux qui cherchent…), un groupe d'entraide PN qui répondra à toutes ces questions.
=> "les volants déconfinés"
Il n'est pas usuel qu'un syndicat fasse la promotion d'un autre groupe que le sien, mais la situation compliquée partout dans le monde le justifie amplement.
---
Les brèves du terrain
Passeport : besoin urgent d'une attestation employeur pour son renouvellement ?
=> mail.ayantsdroit@airfrance.fr
Tel : 01 41 56 32 12
Ou bien contact RH : mail.rrhpnc@airfrance.fr
T'as quel âge toi ? En 2019, la tranche d'âge 40-49 représente toujours 54,5% des PNC. Tandis que 24,4% ont plus de 50. Et loin derrière les moins de 25 ans atteignent les 3,9%.
La population féminine représente chez les PNC 66,1% des effectifs.
Bus Direct : ERRATUM pas de reprise de leurs activités pour le moment.
Absence pour garde d'enfant : à compter du 2 juin, il faut fournir OBLIGATOIREMENT une attestation de l'école justifiant que l'établissement n'est pas en mesure d'accueillir votre enfant (de -16 ans). Si l'attestation n'est pas fournie, l'agent n'aura pas droit au chômage partiel. Retrouvez la procédure sur Easy RH.
Attention ! A compter du 3 juillet ce motif d'absence ne sera plus reconnu par l'entreprise.
LAST MINUTE: L'école n'est pas finie !!!
Elle sera de nouveau obligatoire sur le temps de présence défini, pour tous (écoles, collèges, lycées partout!) à compter du 22 juin. Nous interrogeons l'entreprise afin de connaître sa position. Le motif "absence pour garde d'enfant" sera t'il refusé à cette date? L'entreprise ne semble pas décider à modifier la procédure jusqu'à la date du 03 juillet !
---
L'astuce Moschorus
C'est la haute saison pour les MDC : Marre de chercher ou taper l'URL ?!
Voici comment l'ajouter à votre page d'accueil CabinPad :
ouvrir https://www.airfrance.moschorus.com
=> Cliquer sur la flèche puis ajouter sur écran accueil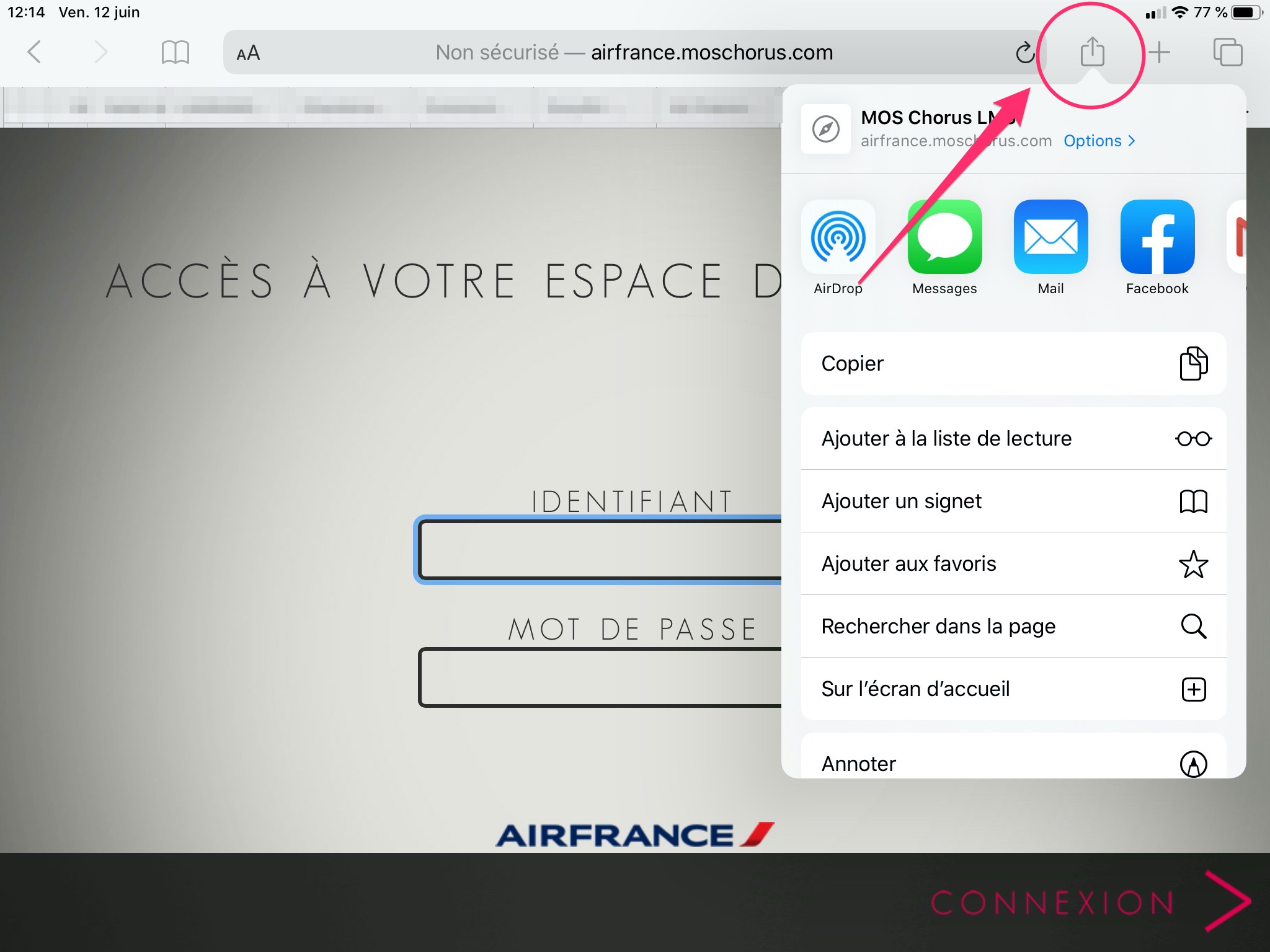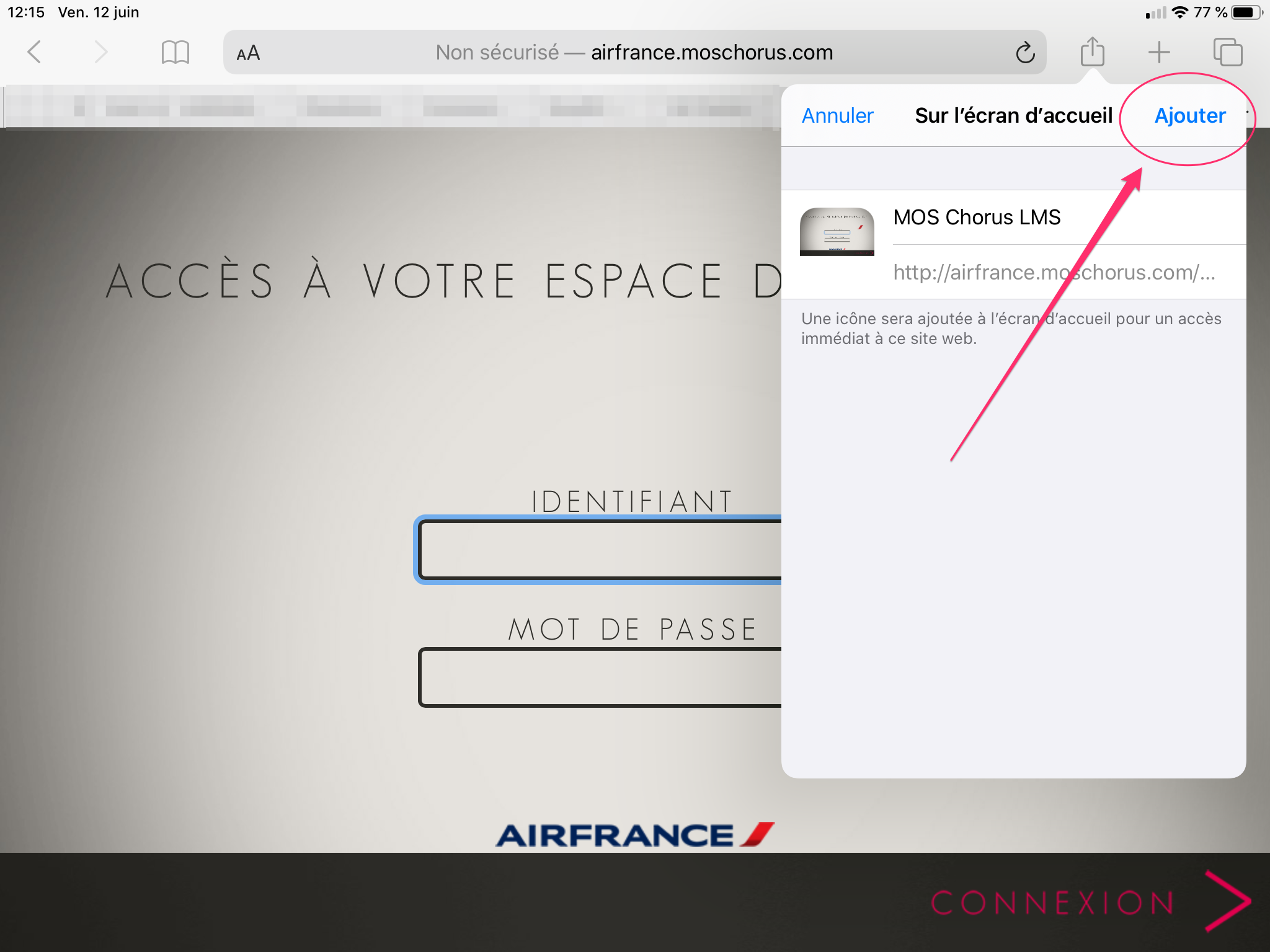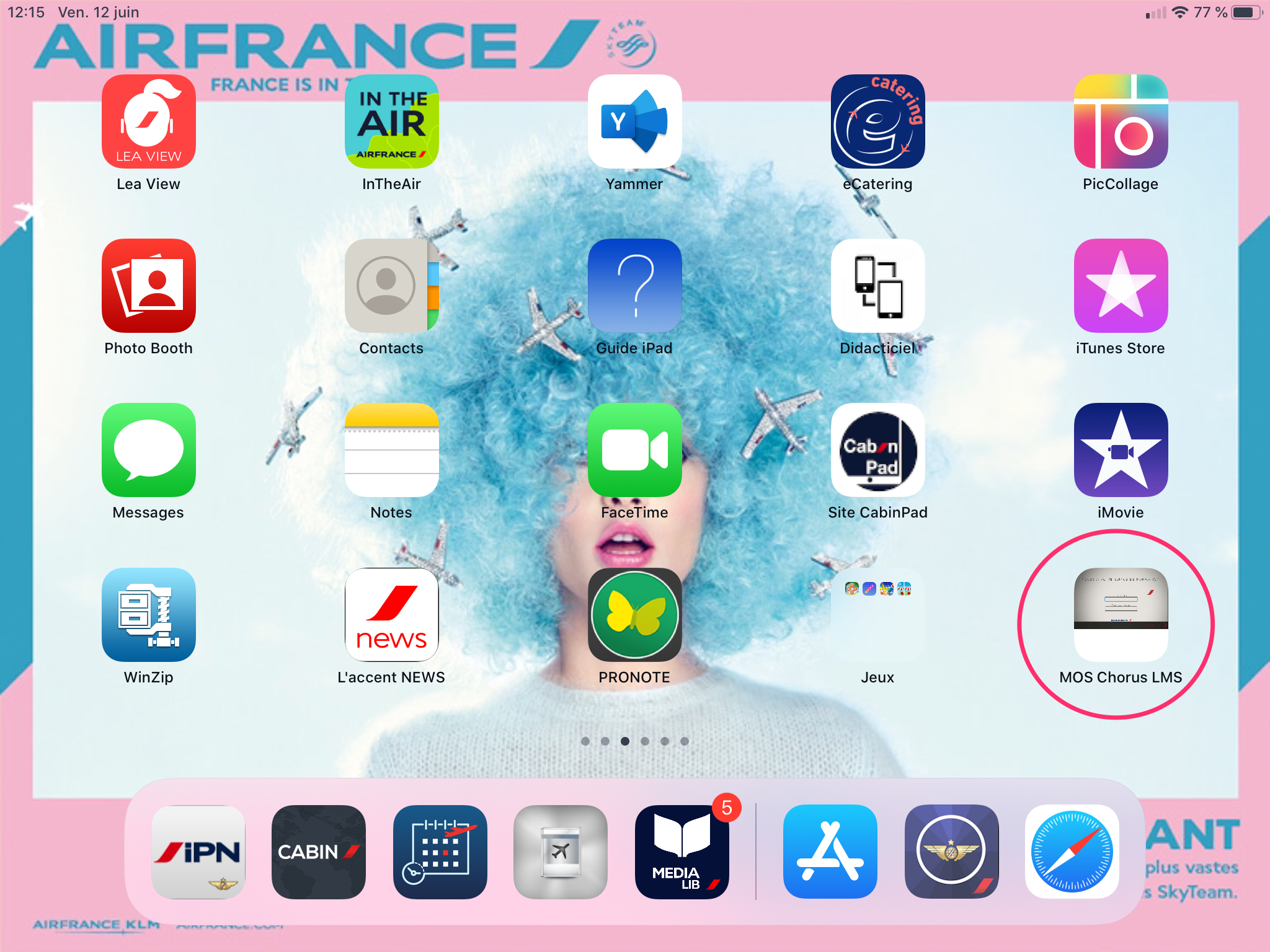 Pour plus de détails sur les dispositions, lire mémo Mission 20.006 du 02 février 2020 "Dispositif e learning (...)"
Rappel :
identifiant : M (majuscule) + 6 premiers chiffres matricule
code accès : M (majuscule) + 6 premiers chiffres matricule
---
Votre CabinPad a mal vécu le confinement ?
Le PadRoom PNC (CDG – Cité PN – Niveau Forum) rouvre le lundi 15 juin à 08H00, puis du lundi au vendredi (hors jours fériés) de 07H30 à 15H30.
Le PadRoom garde l'ensemble des activités habituelles d'assistance et de formation ;
ATTENTION Récupération des mots de passe (habile, Apple, etc.) pour lequel un accès à un téléphone et/ou à un ordinateur est indispensable : le PNC devra contacter le service concerné à l'extérieur du PadRoom.
Les dotations pour les PNC en retour compagnie se feront uniquement sur RDV via
=> mail.cabinpad@airfrance.fr
Préciser nom/prénom/matricule/N° de téléphone. Le jour du RDV, le PNC devra présenter son circulant retour.
Le PNC quittant l'entreprise pourra se présenter sans RDV et rendre l'iPad, la housse, la carte SIM, les chargeurs et câbles. Il devra présenter son circulant départ.
PAS de dotation d'iPad suite à une perte, un vol, une casse. Cette opération est prise en charge par le Tech Café du Siège une fois que la procédure CRIM est complète et la déclaration effectuée auprès du Help Desk. Le Tech Café garde aussi la gestion des cartes SIM.
Pas de prêt d'iPad autre que dans le cadre défini par le Mémo PNC 18.009 « Documentation Electronique » pour les formations réglementaires à l'AFCA.
Attention ! Certaines règles sanitaires sont à respecter :
2 personnes max à la fois, port du masque obligatoire, manipulation des Ipad restreinte.
Le PadRoom est désinfecté deux fois par jour, donc inaccessible le temps de cette opération (20 min environ).
---
Quelques dates à retenir
RAPPEL Ces infos sont déclinées précisément dans nos précédentes com' (voir appli UNSA et/ou mails adhérents)
01 juin Pose journée JOKER possible jusqu'à H-45
08 juin Nouvelle procédure, le PNC qui n'est pas en mesure d'exercer son activité DOIT contacter l'entreprise au 0784409838 à J-3 au plus tard de 8h à 20h
09 juin Réouverture du restaurant du siège le mardi et jeudi uniquement, pour le moment, sur commande par mail.
restauration@cseafpileco.fr
Choix entre 3 formules
Sandwich : Pain tradition ou graines de lin,
Jambon, Emmental / Poulet crudités / Thon tomates oeuf
Chips
Dessert au choix : Salade de fruits / Fromage blanc / Yaourt
à boire / Mousse / Fruits
Bouteille d'eau minérale
Wraps : Jambon, Emmental, Salade, Tomate / Poulet Crudités /
Thon tomate oeuf / Saumon fumé Avocat
Chips
Dessert au choix : Salade de fruits / Fromage blanc /
Yaourt à boire / Mousse / Fruits
Bouteille d'eau minérale
Salades : César (Iceberg, Croûtons, Oeuf) / Nordique (Mesclun, Saumon fumé, Perles marines, Citron, Palmier) / Italienne (Mesclun, Tomates, Mozzarella, Pesto) / Végétarienne (Iceberg, Tomates, Concombre, Coeurs de Palmier, Maïs)
Chips
Dessert au choix : Salade de fruits / Fromage blanc / Yaourt à boire / Mousse / Fruits
Bouteille d'eau minérale
ATTENTION ! IL s'agit du restaurant situé AU SIEGE et NON A LA CITE DONC vous devrez ouvrir un autre compte pour régler vos commandes, la salle est ouverte pour déguster ce panier.
10 juin Réouverture du restaurant de la Cité en mode dégradée QUE le midi (pizza-salades-sandwich)
15 juin Plus de prise en charge des chambres autour des activités par l'entreprise (sauf cas prévus par ACG)
=> réouverture des hôtels en zone aéroportuaire
17 juin dernier jour campagne de DDA vols LC/MC, sortie TDS le 26 RAPPEL si vous êtes en butée en fin de mois, VOUS DEVEZ effectuer les modules complémentaires LE PLUS RAPIDEMENT POSSIBLE, sous peine d'être reconnu comme "non compétent" lors du passage de l'outil. Il faut en moyenne 72H pour que l'info "remonte" en machine… KEEP CALM
---
LE PÊLE-MAIL
Besoin d'une réponse individuelle? En chômage partiel, vos interlocuteurs habituels sont moins disponibles. Voici une liste non exhaustive des mails génériques à utiliser sans modération :
Votre équipe Unsa : unsapncaf@gmail.com
Accident du travail : mail.atpnc@airfrance.fr
AFCA : mail.formation.afca.pnc@airfrance.fr
Bidding : mail.equipebiddingpnc@airfrance.fr
CEMA : mail.cema@airfrance.fr
Cabinpad : mail.cabinpad@airfrance.fr
Coffre fort : mail.sirh.peopledoc@airfrance.fr
CMC perdue ou volée : mail.ioje.com@airfrance.fr
CSE lignes : secretariat@cselignes.com
Colos : colos@cselignes.com
Gestion paie : mail.dpzj.pnc@airfrance.fr
Médical AF : medicalpn@airfrance.fr
Passeport : mail.ayantsdroit@airfrance.fr
Permanence RH : mail.rrhpnc@airfrance.fr
Psychologue AF : alpayen@airfrance.fr
Réglementarité : mail.reglementaritepnc@airfrance.fr
Séjour CSE lignes : celignes@h-resa.com
Temps alterné : mail.tapnc@airfrance.fr
Voyages/Vacances famille : celignes.af@havasvoyages.fr
Pendant la crise, favoriser =>
celignes.af@havasvoyages.fr ou encore celignes.famille@havasvoyages.fr