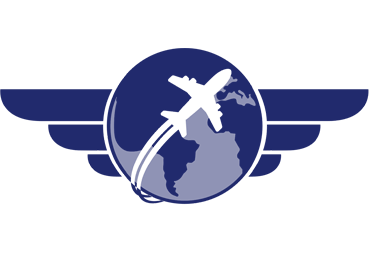 pourquoi nous maintenons notre préavis de grève du 27 juillet au 2 août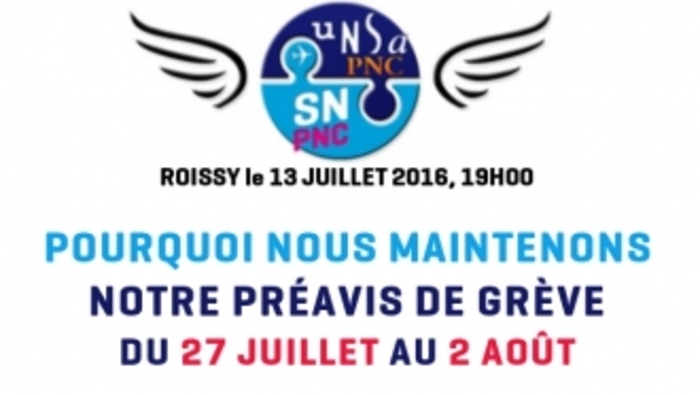 La Direction d'Air France a proposé le 1er juillet aux Organisations syndicales représentatives un Projet d'accord cadre PNC consistant à reconduire l'Accord collectif PNC 2013/2016 jusqu'au 31 mars 2018. Depuis, une communication sans précédent s'abat sur le PNC, par voie de presse en externe où il est répété qu'une telle proposition est une chance pour lui, qu'en interne où le DGA Ressources Humaines, M. GATEAU, suivie par la Direction PNC, exalte la valeur de ce compromis. Une des trois organisations syndicales représentatives, l'UNAC-CGC, a d'ailleurs fait chorus à ce discours en retirant le préavis qu'elle avait déposé pour les mêmes dates - du 27 juillet au 2 août, que celui déposé par l'Intersyndicale PNC, pour le reporter du 14 au 17 octobre tout en annonçant qu'elle ne signerait pas le Projet.
Ne nous y trompons pas, ce n'est pas tant la signature de son Projet qui préoccupe la Direction que son souci d'éviter la grève de fin juillet.
Le projet a tout d'abord été soumis à signature jusqu'au 13 juillet. En l'absence de signataire ce délai a été repoussé au 22 juillet.
Or, non seulement, il n'est pas question pour nous de signer le projet, mais nous maintenons plus que jamais notre préavis.
Une durée de 17 mois totalement injustifiée.
Préalablement, relevons une contrevérité dans le discours de M. GATEAU : la Direction ne propose pas une prolongation de l'Accord pour 21 mois. L'Accord collectif PNC 2013/2016 expire au 31 octobre 2016, et de cette date jusqu'au 31 mars 2018, il y a 17 mois. Ces 17 mois sont-ils un cadeau : rappelons que nos deux précédents accords 2008/2013 et 2013/2016 étaient respectivement d'une durée de cinq ans et de trois ans et demi. Au nom de quoi, le PNC devrait continuer à réduire la durée de ses garanties collectives ? Précisons au surplus que le PNC est la seule des trois catégories du personnel à être régie par un Accord à durée déterminée, qui n'a d'intérêt que si la durée est suffisamment longue pour assurer notre protection (pour information un Accord à durée indéterminée qui serait dénoncé le lendemain de sa signature survit aux termes du Code du travail 15 mois, 3 mois de préavis plus 12 mois de temps donné pour une nouvelle négociation. Et une telle dénonciation par la Direction constituerait une véritable déclaration de guerre). Donc le cadeau, c'est maximum deux mois.
Nous maintenons notre demande d'un Accord d'une durée de cinq ans.
Une méthode fallacieuse.
Revenons ensuite sur le processus de négociation : la Direction a voulu dans un premier temps renégocier dès le mois de septembre 2015. Nous avons alors fait le pari que les efforts de productivité du Plan Transform 2015, assumés notamment par les PNC, assureraient le redressement de la Compagnie. Et cela a été le cas. Dès lors la Direction change son fusil d'épaule : il faut temporiser, car les résultats sont trop bons pour que le Personnel en profite. Alors, oui les négociations vont débuter le 13 avril (et non le 12 mai comme l'allègue M. GATEAU) jusqu'à fin juin. Durant cette période, comme nous l'avons précisé dans tous nos tracts suivant les réunions de négociation, jamais la Direction n' a ouvert l'Accord collectif 2013/2016. L'objectif, c'était de passer l'été en pente douce, et arriver fin octobre sans texte pour imposer unilatéralement ses conditions.
Manque de chance, pour contrer cette stratégie l'Intersyndicale PNC dépose un préavis dès le 3 juin pour le 27 juillet au 2 août, afin de permettre une véritable négociation dans l'intervalle. Celle-ci n'aura pas lieu.
Ces différentes man?uvres peuvent apparaître secondaires. Elles ne le sont pas : notre mission, en tant que représentants du PNC est de négocier et d'obtenir un Accord collectif au moment où AF connaît ses meilleurs résultats depuis une dizaine d'années. A l'inverse, la Direction ne serait pas contre un petit retournement de tendance pour nous remettre à la diète. C'est pourquoi, elle souhaite nous revoir fin 2017. Nous n'entrerons pas dans son jeu.
Le prétexte Projet industriel.
On nous parle d'un Projet industriel (soutenu par l'Etat, mazette !), on nous chante cette rengaine depuis tant d'années. Et qu'avons-nous vu ? Des mesures de productivité qui créent du sureffectif, des plans de départs volontaires (PDV) à tire-larigot (à tel point que la Direction vend la pause des PDV comme une avancée sociale !), le transfert de l'activité moyen-courrier vers Transavia et Hop !
La Direction a même invoqué les négociations PNT pour nous demander de patienter. Mais une Organisation syndicale n'est pas là pour permettre à la Direction de compartimenter les négociations ! Cela signifierait-il par ailleurs que nos négociations et le niveau de notre Accord dépendraient du résultat des négociations avec nos collègues PNT ? Chaque syndicat se doit de défendre la catégorie professionnelle qu'il représente, mais aucune de celle-ci ne saurait servir de variable d'ajustement. C'est manifestement le sort qu'on voudrait nous réserver.
Nous valons mieux que ça.
Sur le fond, contrairement à ce que déclare le DGA Ressources Humaines, les positions ne sont pas proches. Tout d'abord, passons sur l'argument, soutenu également par l'UNAC-CGC, qui consiste à soutenir, qu'il y a victoire syndicale à obtenir de la Direction qu'elle renonce à toucher, aux N70, à notre GVT et à nous faire voler plus gratuitement. Désolé, mais nous avons plus d'ambitions.
Rappelons ici que nous avons signé en juillet 2013 le Plan Transform, et ses 20% de productivité qui se sont traduits, non seulement par un gel des salaires qui dure depuis quatre ans, mais aussi par des diminutions de composition d'équipage. A ces sacrifices ? que M. GAGEY considère comme du passé, s'est ajouté tout ce qui a été fait hors Transform : la montée en gamme du service, qui a pour conséquence d'augmenter de façon exponentielle la fatigue du PNC. Le CHSCT PNC a demandé, à l'occasion de la mise en place du Projet Nouveau Produit Business Long Courrier (Best and Beyond) une expertise. Celle-ci a été réalisée par le Cabinet CATÉIS qui dans ce cadre a été amené à dresser l'état physique et psychologique du PNC. Voici ses conclusions :
Ayant entendu le service de santé au travail, l'expertise relève :
« -Une dégradation des conditions de travail.
-Une augmentation de la pression temporelle.
-Une complexification dans la prise en charge des PNC victimes d'évènements déstabilisants en vol ou en escale.
-Une augmentation du nombre d'arrêts maladie.
-L'insuffisance de reconnaissance des efforts effectués.
-Un sentiment d'injustice au niveau organisationnel ».
Baisse des compositions d'équipages.
Diagnostic pris avant la mise en place de Best and Beyond, qui s'annonce ravageur. Alors que le PNC est épuisé, la Direction a pour projet de baisser le nombre de PNC en Cabine Affaire sur toutes les versions inférieures à 35 passagers. Donc de passer de 3 PNC à 2 PNC en Affaire sur A330, A340, 777-35J, 787. Ceci n'est pas inscrit dans l'Accord soumis à signature mais ces projets sont bel et bien présentés dans les réunions auxquelles nous assistons. Ce que confirme M.GATEAU dans son courrier du 13 juillet, repoussant la signature de l'Accord au 22 juillet.
A terme, dans 17 mois par exemple, avec l'intégration du CCP dans le service, le Projet prévoit bien la suppression du C/C dans cette cabine. Aujourd'hui chaque PNC a une bonne raison de faire grève : la charge de travail, sa pénibilité, les conditions précaires dans lesquelles on nous laisse l'effectuer, l'absence de reconnaissance, l'absence de soutien dans des situations difficiles.
Le rapport de force est un recours légitime.
Nous considérons aujourd'hui que la grève que nous allons mener constitue la seule réponse à l'attitude de la Direction. Celle-ci tente par tous les moyens, via notamment l'Encadrement PNC de la discréditer ? lire par ailleurs que Monsieur GATEAU trouve cette grève incroyable et d'une durée inédite surprend, n'a-t-il pas connaissance des grèves PNT de 1998, de 2014, et d'en minimiser l'impact. Ne vous laissez pas impressionner, et n'hésitez pas à contacter vos délégués SNPNC/FO ? UNSA PNC pour toute précision.
La grève est garantie par notre Constitution. Il s'agit d'un outil démocratique. Que la Direction ne nous reproche pas d'en user : nous lui avons laissé quasiment deux mois pour s'organiser, avec des revendications précises auxquelles elle n'a pas apporté de réponse.
Nous avons d'ores et déjà, dans le but de faire sanctionner les pratiques d'AF visant à détourner l'objet de la Loi DIARD pour dissuader les PNC de faire grève, introduit deux actions en justice : l'une visant à corriger le formulaire AF obligeant le PNC gréviste à indiquer sa date de reprise de travail, ce qui n'est pas prévu dans la Loi DIARD, l'autre à voir garantie la stabilité des plannings des PNC en cas d'aléa (maladie, mais aussi grève), à l'instar de ce dont bénéficient nos collègues PNT.
Nous appelons toutes les autres Organisations syndicales, dont certaines, et non des moindres, se sont montré extrêmement discrètes, à nous rejoindre. Et nous déplorons que l'UNAC-CGC soit sortie du conflit.
NOS REVENDICATIONS :
· Un Accord de 5 ans
· Une réelle garantie du maintien des compo-peq actuelles.
· Une réelle stabilité de planning de façon à nous permettre de construire nos vies personnelles.
· L'amélioration de la protection des S2 sur Moyen-courrier ou la mise en place des rythmes circadiens.
· Le retour à la règle antérieure des journées Joker, soit pose à J en semaine et week-end.
· Option Transport : amélioration des options transport pour prendre en compte la problématique des PNC prenant l'avion pour se rendre au travail. Ce n'est pas l'aumône de 11? sur un aller-retour qui règlera le problème.
· Oui à des blocs-réserves plus courts à condition qu'ils soient limités à un par trimestre, et qu'ils soient désidératables et échangeables. On notera que cette mesure avait été pourtant acceptée dans un premier temps par l'Entreprise...
· Fin des embargos sur le paiement des RADD LC et MC
· Choix entre le versement d'une indemnité pressing ou d'une carte pressing.
Vous avez d'ores et déjà massivement rempli les formulaires Loi DIARD. Ceux qui ne l'ont pas encore fait peuvent encore se déclarer sur :
https://www.unsa.snpnc.org
PNC, TOUS EN GRÈVE
DU 27 JUILLET AU 2 AOÛT